Document Requirements
For Air Travel
All U.S. citizens and nonimmigrant aliens from Canada, Bermuda, and Mexico departing from or entering the United States from within the Western Hemisphere at air ports of entry are required to present a valid passport, Merchant Mariner Document (for U.S. citizens traveling on official business), or Military Identification Card (for members of the U.S. armed forces traveling on official orders). Note that children are also required to present their own passport when traveling by air.
Requirements for lawful permanent residents of the United States are not changed by the implementation of WHTI. Lawful permanent residents must continue to present a valid Permanent Resident Card. A passport is not required.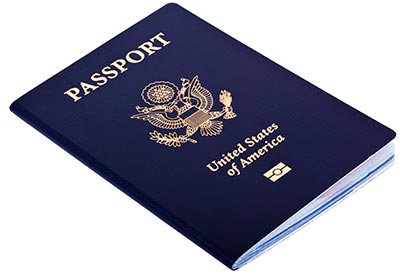 Whether you are a visitor to the United States or U.S. citizen, each individual arriving into the United States must complete one or more of U.S. Customs and Border Protection's (CBP) entry forms.
Every traveler must complete the CBP Declaration Form 6059B. This form provides CBP with basic information about who you are and what you are bringing into the country, such as agriculture products and whether or not you have visited a farm prior to traveling to the United States. If you are traveling with other immediate family members, you can complete one form for your entire family. CBP recently expanded the definition of family, please refer to the CBP web site for more information.
Some travelers will need to complete a paper CBP Form I-94. Those travelers may include refugees, asylees or individuals with parole documents.
U.S. Customs & Border Protection is responsible for protecting the United States against the illegal importation of prohibited items. Customs officers have the authority to question you and to examine you and your personal property. If you are one of the travelers selected for an examination, you will ne treated in a courteous, professional, and dignified manner. Customs & Border Protection Supervisors and Passenger Service Representatives are available to answer your questions.
Important Information
U.S. Residents: Declare all articles that you acquired abroad and are bringing into the United States.
Visitors (Non Residents): declare the value of all articles that will remain in the United States.
Declare all articles on the customs declaration form (CBP form 6059B) and show the value in U.S. dollars. For gifts please indicate the retail value.
Duty: Customs & Border Protection officers will determine duty. U.S. residents are normally entitled to a duty-free exemption of $800.00 on items accompanying them. Visitors (non-residents) are normally entitled to an exemption of $100.00. Duty will be assessed at the current rate on the first $1,000.00 above the exemption.
Controlled substances, obscene articles, and toxic substances are generally prohibited entry.